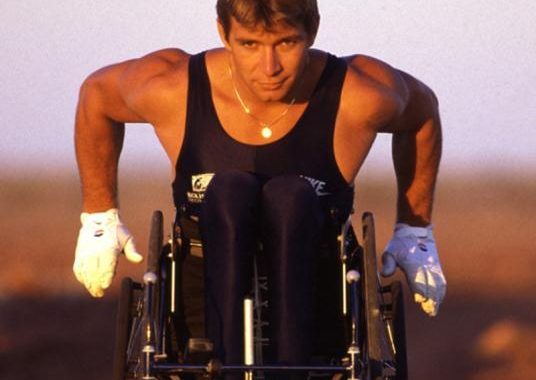 Canadian Heroes: Rick Hansen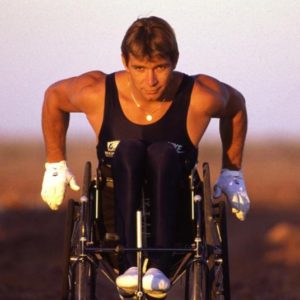 (Photo Credit: rickhansen.com)
We as Canadians can be rather picky about who we label as a hero. Sports figures would always be prominently on the list as we praise them for their accomplishments on the ice, field or court but then we have those heroes who set out to accomplish something so big, so amazing and so daring, and they do it all for others.
Terry Fox is someone that most definitely fits that category as his name is synonymous with raising funds for cancer research. His Marathon of Hope continues to inspire us years after his death and runs in his name can be found in over sixty countries around the world each year. Another true Canadian hero is Rick Hansen and as we celebrate our nation's 150th birthday this year, we can also celebrate the 30th anniversary of Hansen's feat: His Man in Motion Tour which saw him wheel his way around the world to raise money and awareness for spinal cord injuries.
Rick Hansen didn't start out in life as a disabled person, rather he acquired a spinal cord injury at the age of 15 after being thrown from the back of a pickup truck. Always having been an athletic kid, Rick didn't allow his wheelchair to get in the way of continuing that lifestyle. It wasn't about what he had lost, but rather what he could gain from this new life that kept him going. Where before his accident he played basketball and volleyball he now took to wheelchair basketball and volleyball, winning national championships with his teams. He also became a wheelchair marathoner, started wheelchair racing and became a Paralympic athlete where he won a total of three gold medals, two silver medals and a bronze medal at the 1980 and 1984 Paralympics as he represented Canada.
Rick Hansen was the first person to try (and succeed) at taking himself around the world in a wheelchair, something that he became inspired to do by watching young Terry Fox's Marathon of Hope. Not that being the first at something was a new concept to him, as he was the first student with a disability to graduate from the Physical Education program at the University of British Columbia as well. In later years he would also coach high school basketball and volleyball and today he is the president and CEO of the foundation that bears his name, an author, an activist and a voice for those with disabilities in Canada and around the world.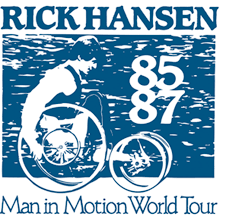 (photo credit: rickhansen.com)
His Man in Motion tour started out on March 21st 1985 in Vancouver with little fanfare and long road ahead. Once it was completed he had travelled for 26 months, covered 40,000 km and wheeled across thirty four countries over four continents. The tour ended on May 22nd 1987 at B.C. Place Stadium in Vancouver with much celebration and over $26 million raised for spinal cord research. After the tour he turned to activism and thirty years on the Rick Hansen Foundation has raised more than $200 million for more research and injury related programs with a specific goal to create an inclusive world where people with disabilities can reach their true potential.
Rick Hansen, like Terry Fox didn't set out to be a national hero but that's how they ended up in many of our minds because they both selflessly did something that would positively impact other people. Both knew that with increased funding the scientists could get to work and find other ways of treating people who had life threatening conditions or life changing accidents. Just ordinary people doing the extraordinary and leaving a legacy for us all to follow.
At the age of 15, Rick Hansen could have called it a day; his life was changed forever. Maybe he thought of giving up, but he didn't. He realized his life wasn't over, it was just altered and he like so many other people battling their personal demons, was determined to keep going. Wheeling across Canada would have been feat enough, but his dreams were as big as the whole world and he took his shining example to the masses.
Thanks to him people now have other options to explore as they navigate the tricky road to recovery and research into spinal cord injuries continues to push the envelope. Programs that never existed before now do and people are getting much needed help and information as they continue on their journeys. And all because of one man who sees his disability as nothing to be stopped by.