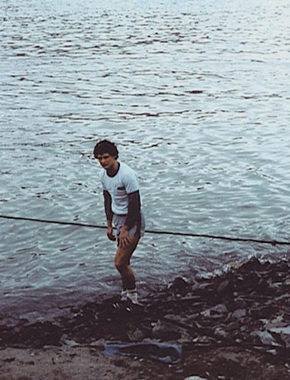 A True Canadian Hero, Terry Fox

(Photo Credit: Terryfox.ca)
Terry Fox didn't set out to become a hero. He didn't think that he was all that special–he was just a kid who wanted to help other people– and he didn't intend on being a symbol of hope, empowerment and inclusion. Turns out he did it all anyway and then some out of sheer determination and a powerful spirit.
Terry Fox was just a kid who loved basketball but was too short to make the team. His coach asked him to try running so to please the coach he did, and he liked it, although not as much as he loved basketball. He only played a minute the entire season when he was in grade 8, but that didn't stop him. In fact, he made the team the next year too, and the year after that, and the year after that. Not because he got taller but because he was tenacious, he kept working at it and he had a drive to succeed.
It may have been that drive that, coupled with watching the despair and hopelessness that other cancer patients were going through fuelled his drive to do something, anything to make those with cancer have just an extra glimmer of hope. In 1977 when he was just 19 years old, he lost his leg to cancer. Before his surgery he had been told that he had a 50% survival rate, but had they found his cancer just two years before they did, his survival rate would have only been 15%. Sitting through chemotherapy he realized just how much research was progressing, but also how much more needed to be done.
After his surgery he continued to run, and he also continued to play basketball, in fact he and his team won three National Championships in wheelchair basketball. He never thought of himself as disabled, nor did he tolerate anyone referring to him as such. He also never took kindly to pity; he was a young man with something to overcome, not something to use as an excuse to not get on with life. What could he do? He could run.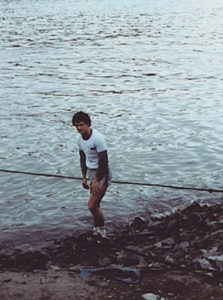 (Photo credit: Terryfox.org)
The now famous Marathon of Hope started in St. John's Newfoundland on April 12, 1981. Fox dipped his foot into the Atlantic Ocean and started on his cross Canada quest. He ran the equivalent of one marathon a day and although he started slowly and with little fanfare, by the time he made it to Ontario he was a celebrity. His dream was that each and every Canadian would donate one dollar to cancer research. He wouldn't allow anyone to profit from his run besides the Canadian Cancer Foundation and actually turned down any company that tried. Yes, he had principles and he stuck to them. He endured terrible weather and terrible pain, he fought with his van driver, he was lonely and he was mad that more people weren't getting on board, but did he give up? No, he kept going mile after mile until people did start to take notice and the donations started to flood in.
We all know how the story sadly ended. The Marathon of Hope came to a stop just outside of Thunder Bay Ontario when he found out that the cancer had come back, this time in his lungs. He was asked by numerous people if he'd allow them to take up the cause and continue the run in his stead, but he flat out refused. If anyone was going to continue the run it would be him. By the time he had to stop running he had gone 143 days and travelled 5,373km. He had raised $1.7 million for cancer research. A week after the run ended, CTV hosted a telethon and raised a whopping $10.5 million and by the next April, $23 million had been raised for the cause.
Terry Fox may have died on June 28 1981 but he certainly left a legacy. The September after he passed the first Terry Fox run took place. He had insisted that any runs in his name be non-competitive and that's how they have been since day one. There are no winners and no losers, just people coming together for a common cause. That first race got 300,000 people out in his honour and raised $3.5 million. It wasn't long until schools got involved and today there are annual Terry Fox Runs in over sixty countries.
While some may think that Terry Fox was just a cancer advocate, we also know that he helped the disabled get a voice and increase their visibility, which led to better inclusion and more understanding of their plight. He is the youngest person ever to have received the Order of Canada and in 1980 he won the Lou Marsh Award as the nation's top sportsman. He was also named Canada's Newsmaker of the Year in both 1980 and 1981. See, he wasn't disabled, he was just differently abled and that difference led to so much hope for so many people.
The lesson from Terry Fox's life and legacy is that no matter what hand you get dealt, you can still do great things. While he didn't think his Marathon of Hope was a 'great' thing, it ended up being one of the most enduring stories of our time. It also gave us one of the greatest Canadian heroes that we have ever seen—an unassuming kid from BC who just wanted to make a difference for others.